UPGRADES AND MAKEOVERS


This section includes some genuine Fender, Gibsons and other name brands , as well as pictures of our custom models. MIM, MIJ, USA guitars that have special mods/upgrades/ aging/relicing, etc...

IF you have a guitar you want given an aged/vintage look ,mods/ upgrades , etc...

NOTE: Fender Decal's will not be applied to any headstocks. All those with decals are genuine Fender guitars

Fender®, Tele®, Telecaster®, Strat®, and Stratocaster® is a trademark of Fender Musical Instruments Corp (FMIC) FVcustomguitars is not affilliated with FMIC

Upgrade to a titanium block

Certainly a 100% thin nitro finish is easier to work with. But we've come up with some great techniques now to relic even a guitar with a poly finish ! So if you have a less guitar that you love and are attached to, but would like to improve on it in some way , give us a call to see what is possible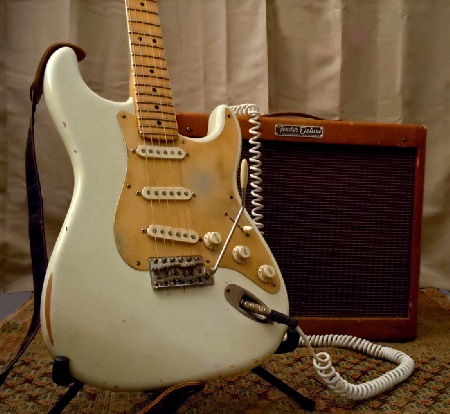 Fender Highway One with a refin, aluminum gold guard added, vintage tuners, etc.. aged to a nice medium level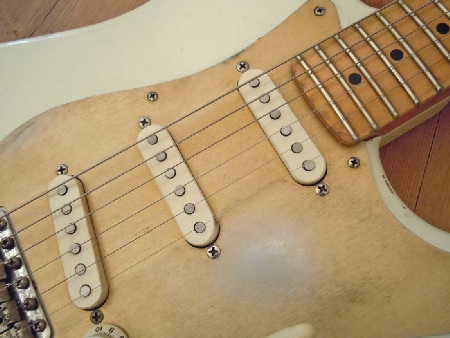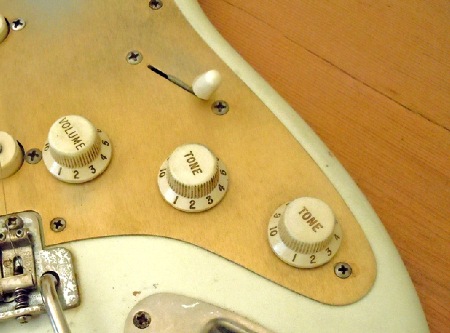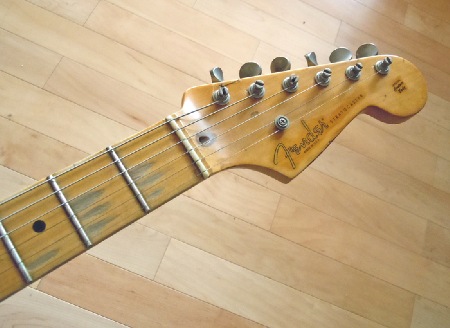 This is the highway one neck aged with vintage tuners put on. tear drop fingerwear, and Fenders decal masked and darkened like vintage necks

A

Our customers are always amazed at how thier necks feel after we take down the finish, stain Properly oil the back. And since we are aging the guitar , we can really get in there to roll and soften the fretboard edge and frets

Here is the back of a MIM neck with a soft V and vintage specs on the top (properly sanded stained and oiled back)

Many of these are guitars with a poly finish, but can still look good reliced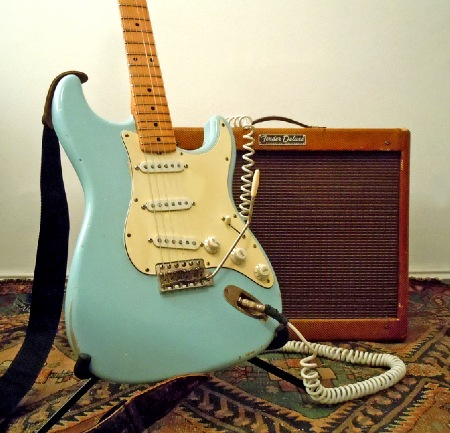 Sonic blue with a mild aging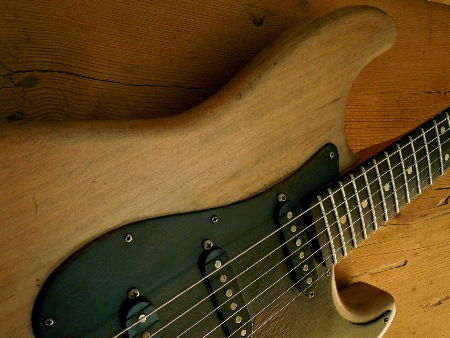 Example of a heavier relic job on a poly finished guitar (although I prefer doing medium aging when its a poly guitar, this came out pretty good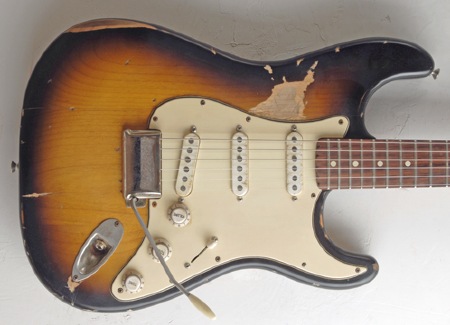 early 1990's MIM reissue/specialedition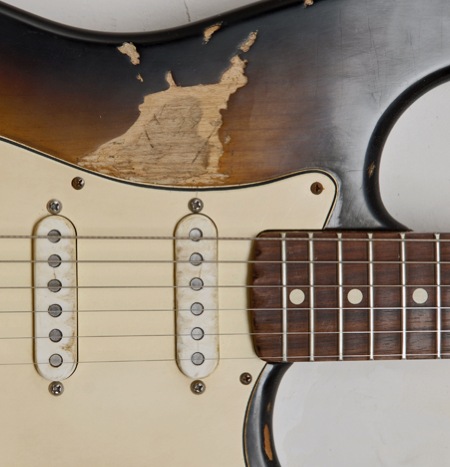 aged scratch area, fretboard edge and pickup covers (bakelite style)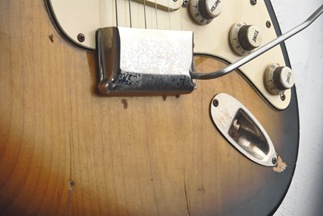 Photo below was contrasted to easier see the subtle blade checking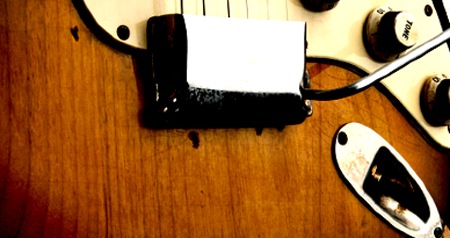 Lake Placid Blue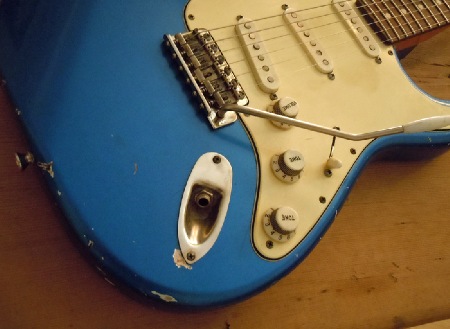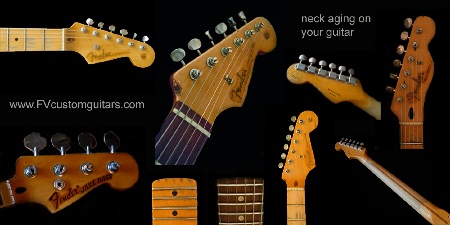 imitation of early bakelite style aging on covers and knobs of this new mary kay style strat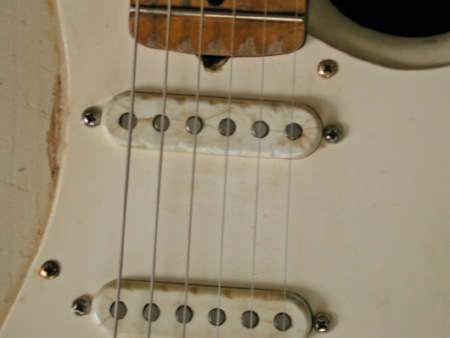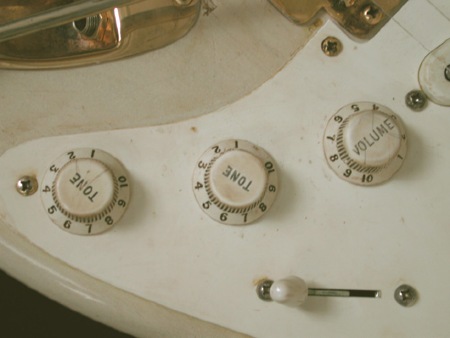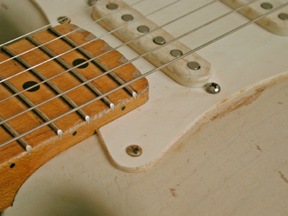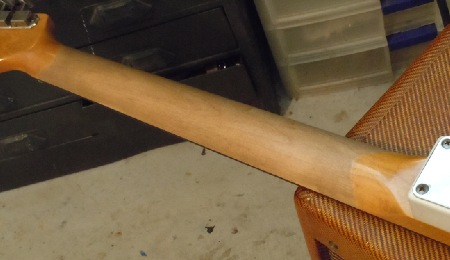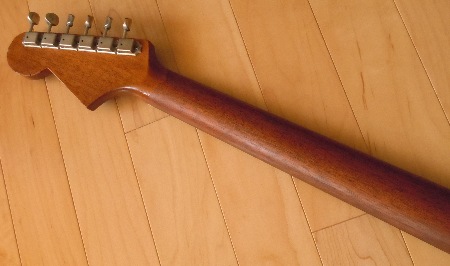 Mahogany neck with ebony board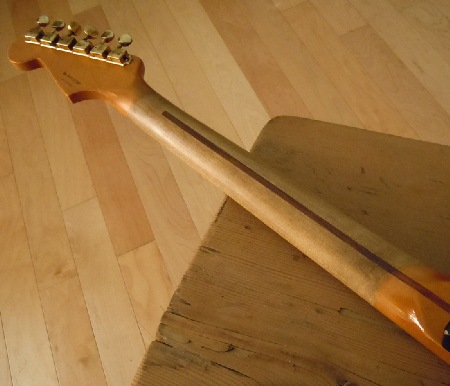 MIM surf green re issue, with a poly finish

Polyurethane sonic blue body with medium aging

the shiny production poly look buffed down to get a nice soft satin look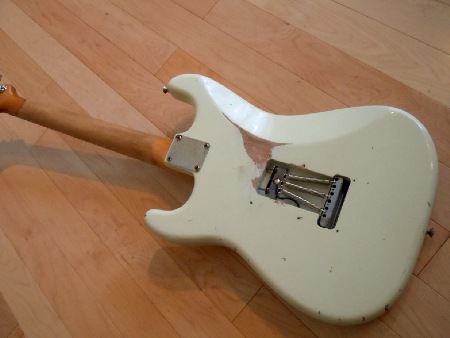 Another way to age the knobs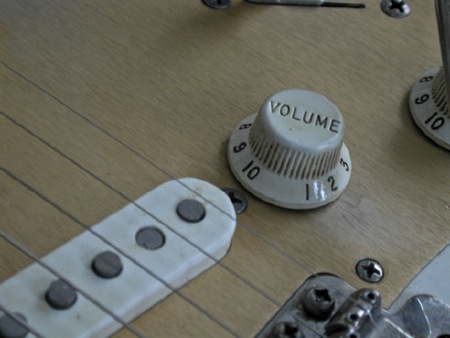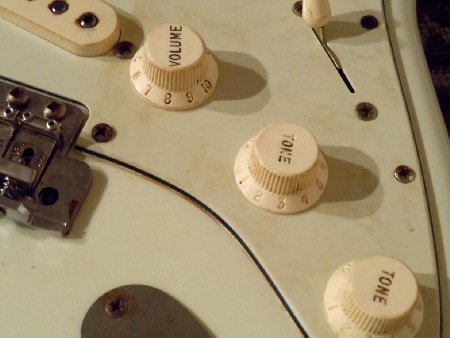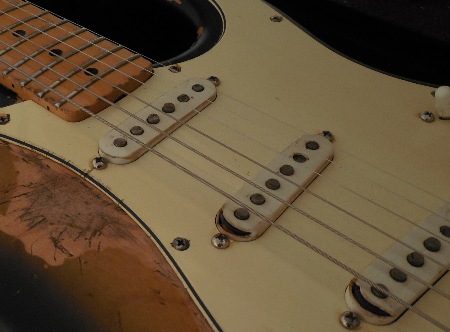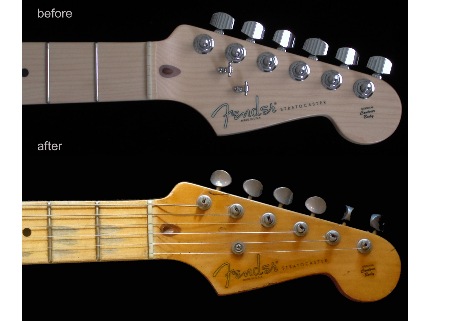 tuners changed to vintage correct, string tree mod, ambered, decal highlighted, etc...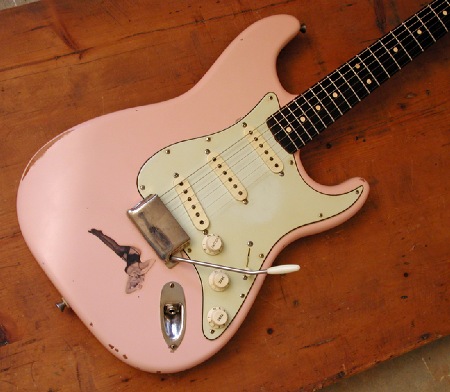 Gibson LP with Floyd before and after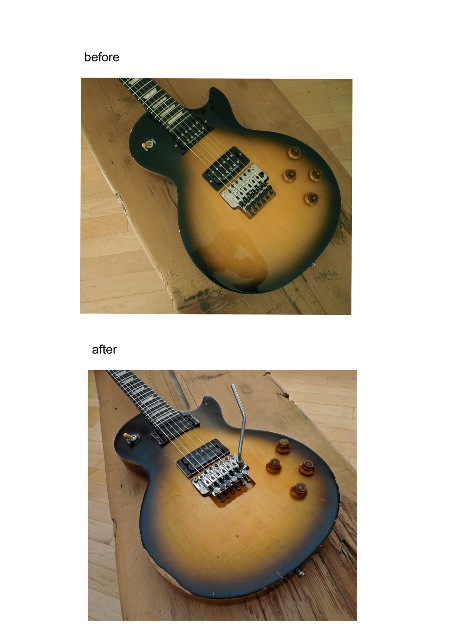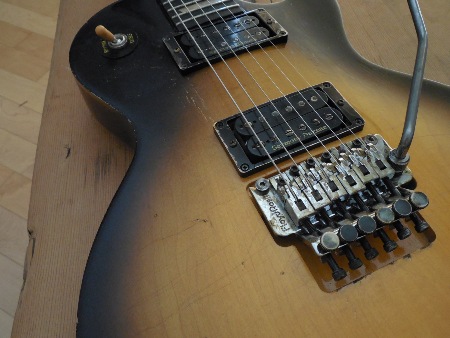 2007 MIM Standard

BEFORE AND AFTER

another poly finish guitar with aging

typical area I like to do blade checking on

Nice to to put a mint green guard on a white strat as well like belowThis is one of my customs with a built in amp (see link below to hear the amazing sustain and feedback out of this)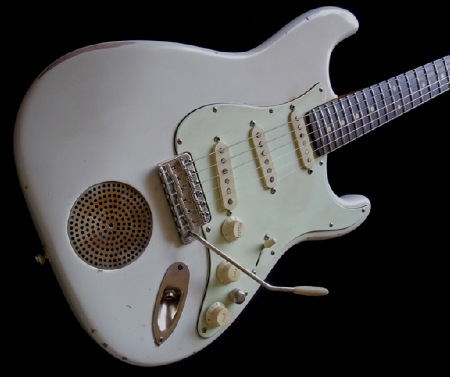 This is one of my customs with a built in amp (see link below to hear the amazing sustain and feedback out of this)

http://www.youtube.com/watch?v=NVp-bvo6KrI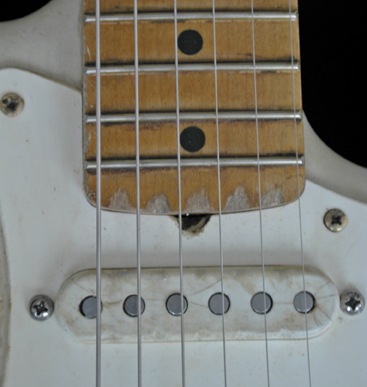 Bakelite style cover aging and marks on neck from years of plaing chords (hack away divot to get at the truss rod between sets)

custom natural finish with aged tinits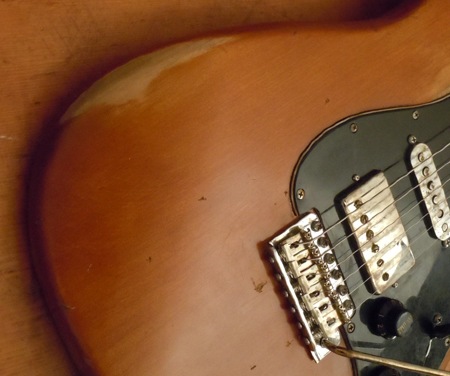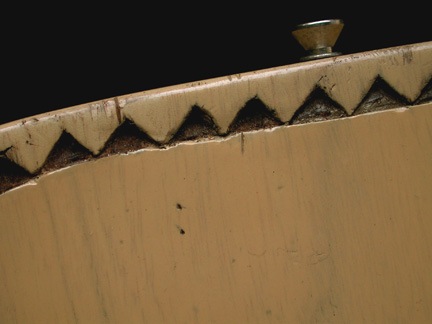 carved sawtooth design border on many of our custom models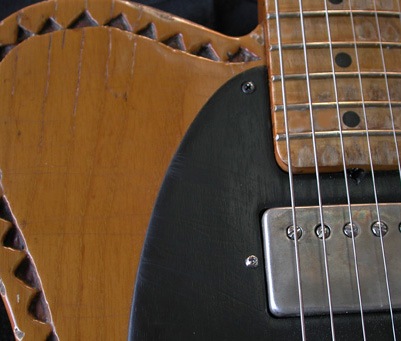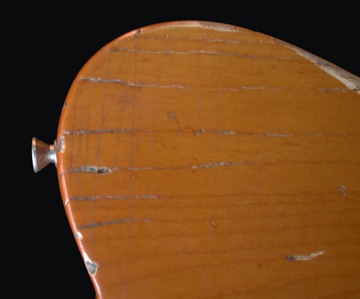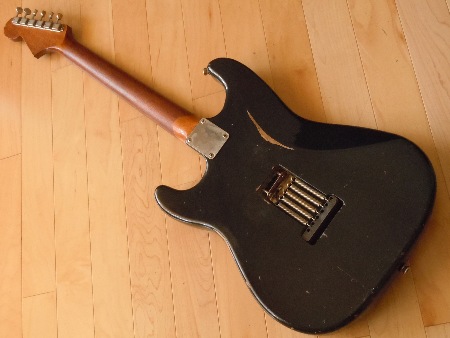 Mahogany neck with ebony on a with a black body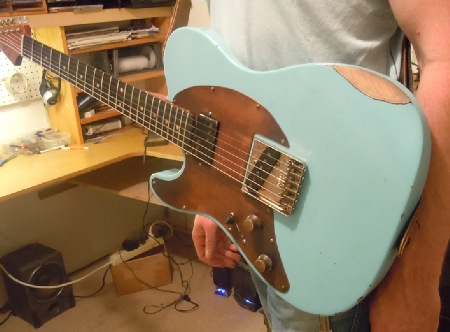 Marshall Seese's custom build (great singer songwriter who plays lefty but with strings like a righty)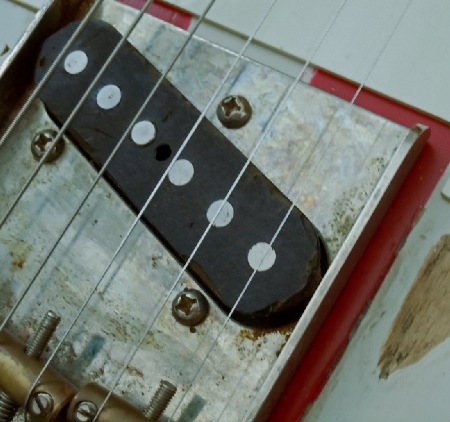 aged tele pickup

getting rid of the production off the shelf look on this Sambora strat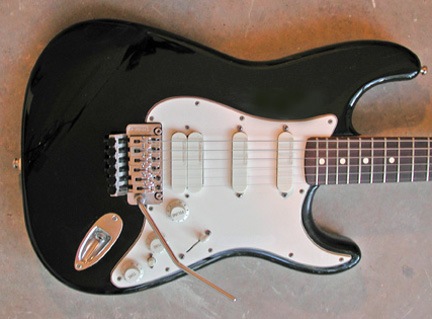 BEFORE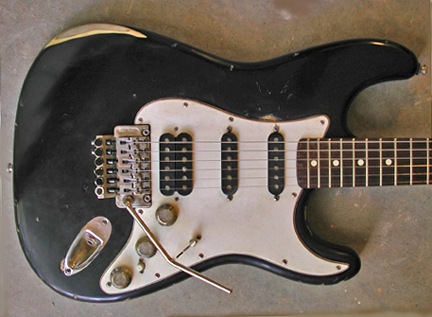 AFTER

Here is a MIM jimmy vaughn strat. Another great MIM guitar to upgrade, mod and age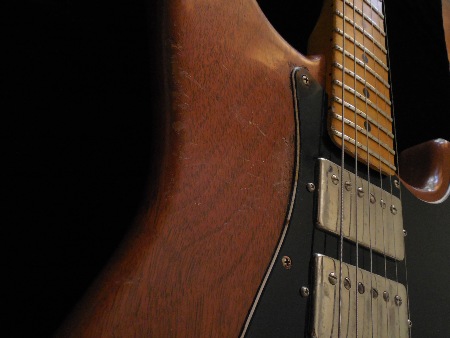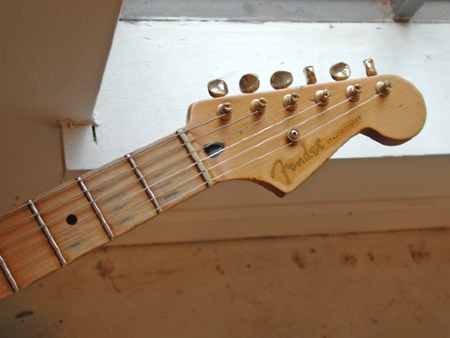 this one was upgraded with gold tuners

Can't forget the tele's !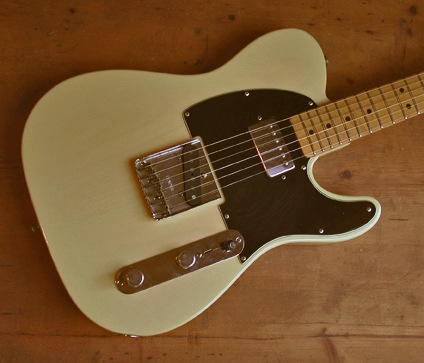 BEFORE (MIM tele with a poly finish)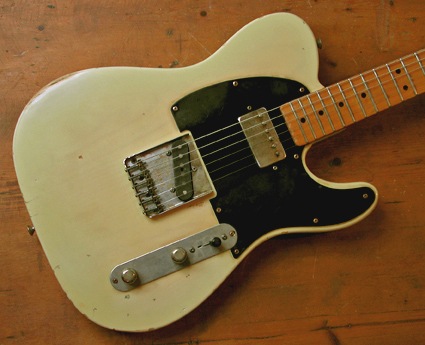 AFTER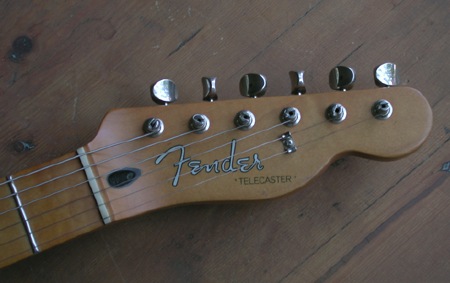 BEFORE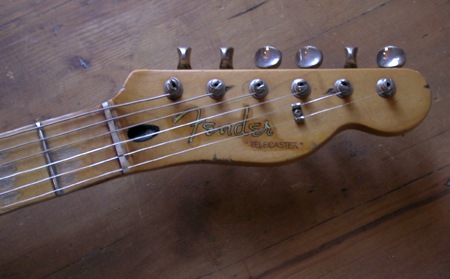 AFTER

ancient old ARNOLD HOYER
huge jazz box
that needed a lot of work
(neck is a gibson knock off, also
very old)
Fralin P90's



big fat woody sound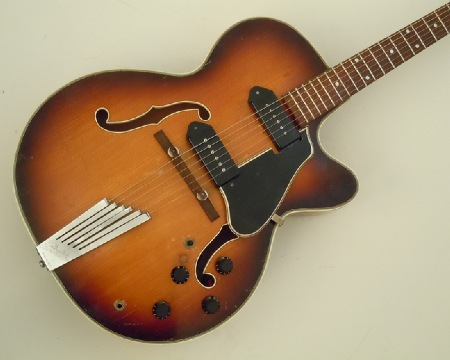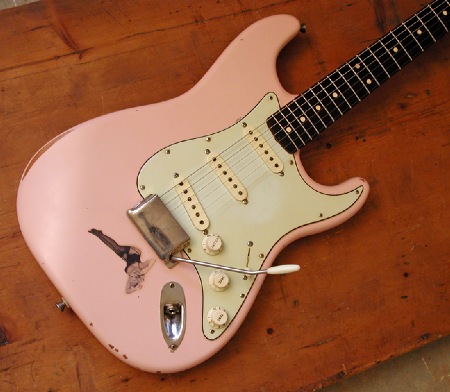 customers Anna Nicole project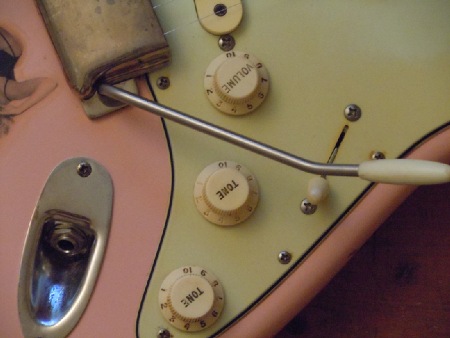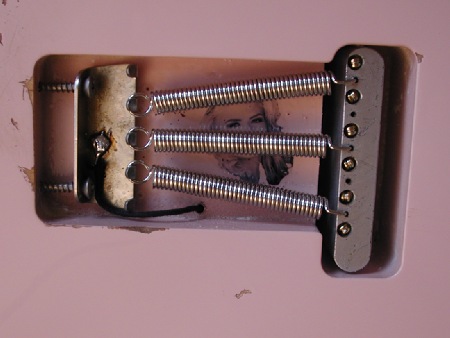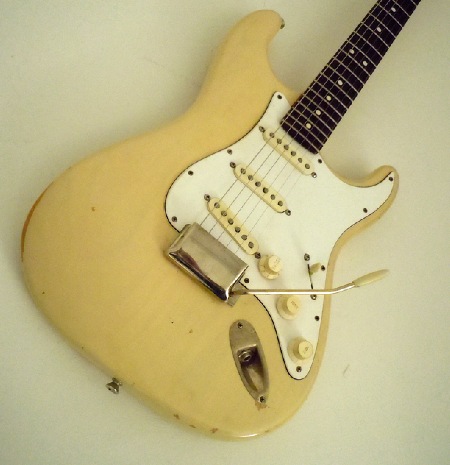 This was a great find

Early Fender USA Highway One with a
true blonde color (not the ugly honeyblonde
hearing aid fleshy color)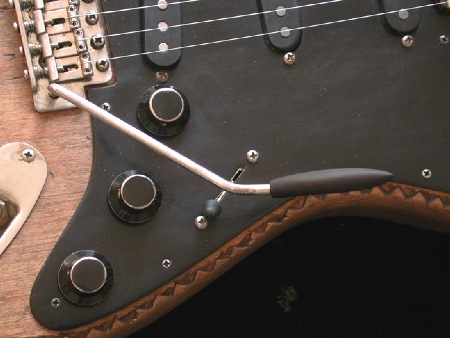 sample of hand shaped trem arm tips
(see high end guitar section for more)

NATURAL hand rubbed finish's that get better with time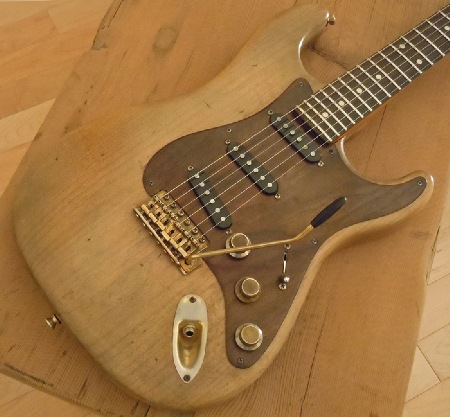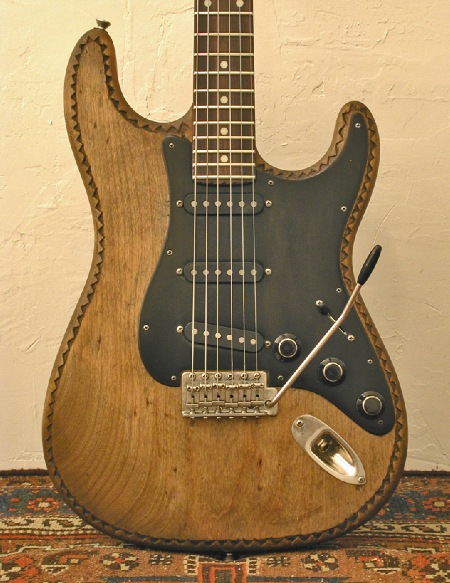 Making a plain black strat come alive
(anodized gold guard, gold hardware, aging,
upgraded pickups and block, tinted neck, etc...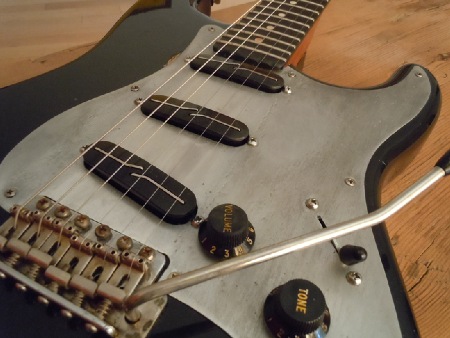 BEFORE Virtuoso guitarist Jim Ryan of the Flying Ryan Brothers old EPI spirit that I gave an interesting makeover to.

After

another aged and distressed metal guard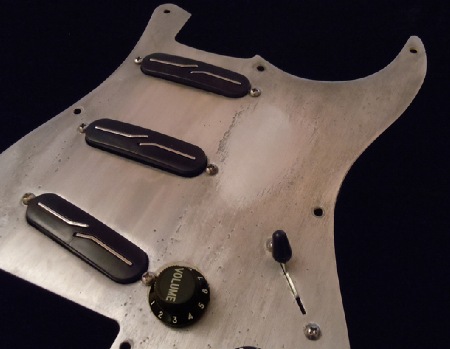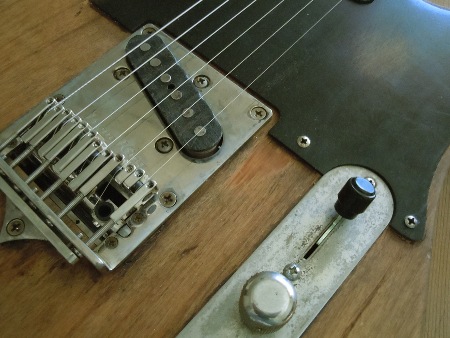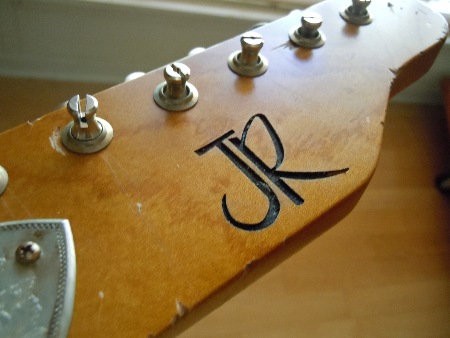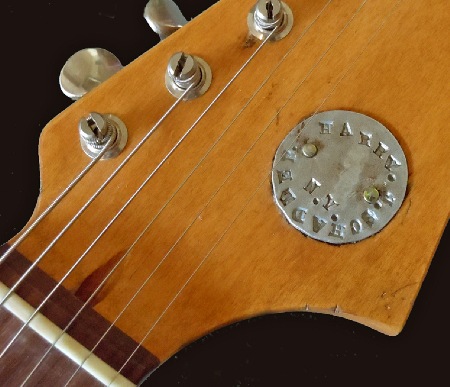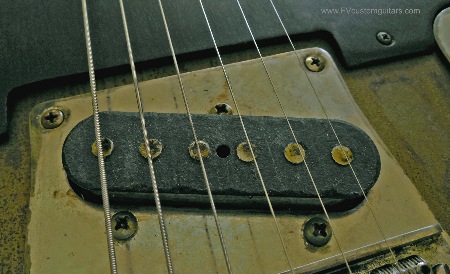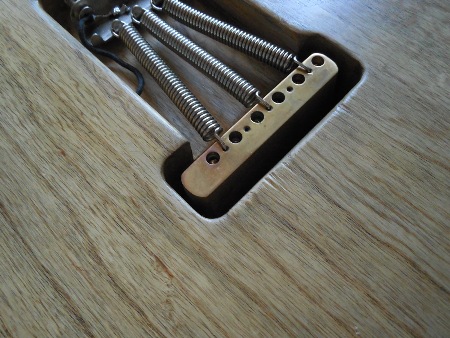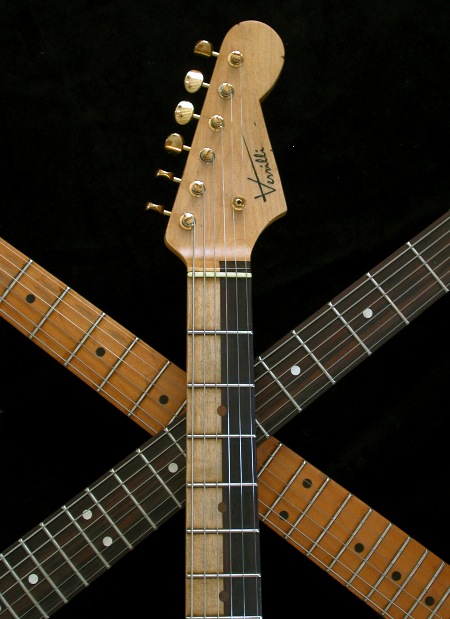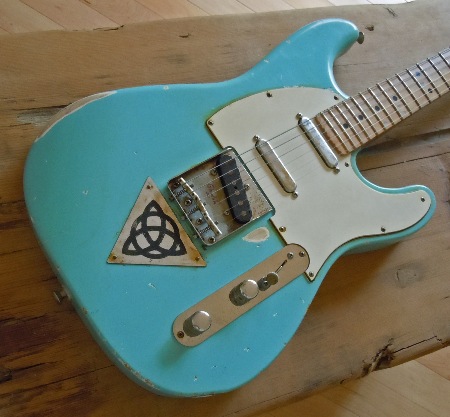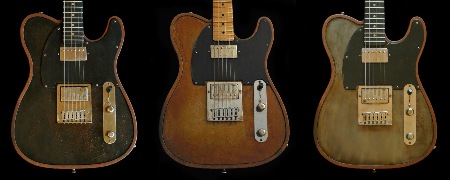 GIBSON SG makeover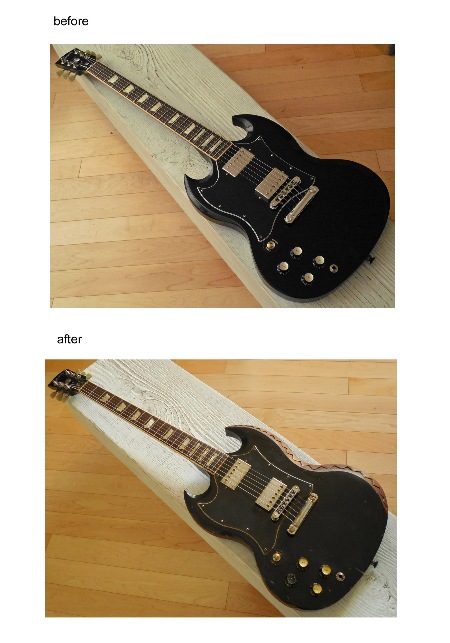 Customers EPI spirit makeover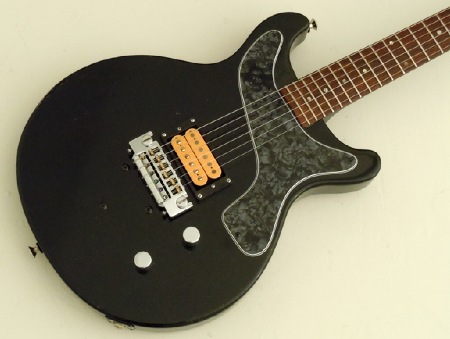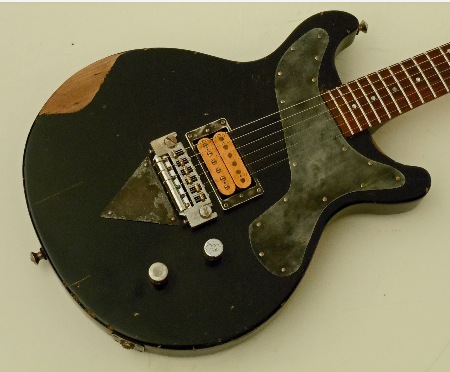 wood turned trem arm tips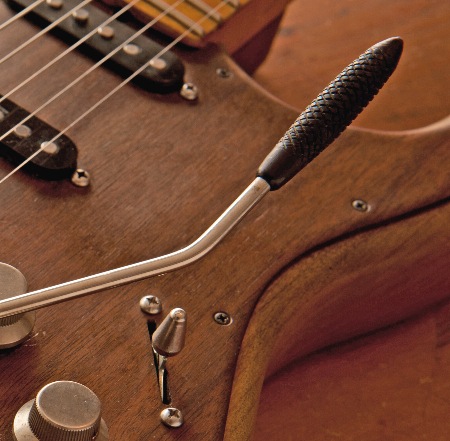 Case aging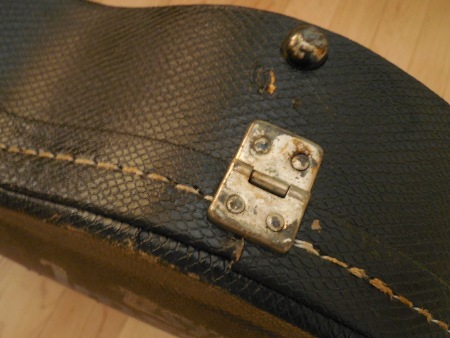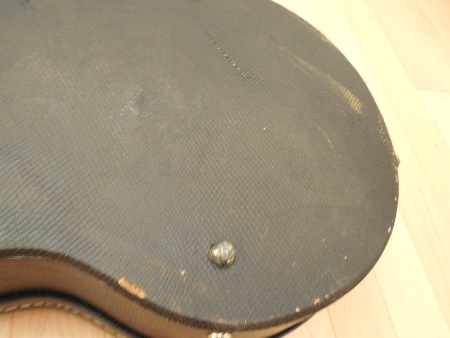 Also lacquering/ambering/aging tweed covered amps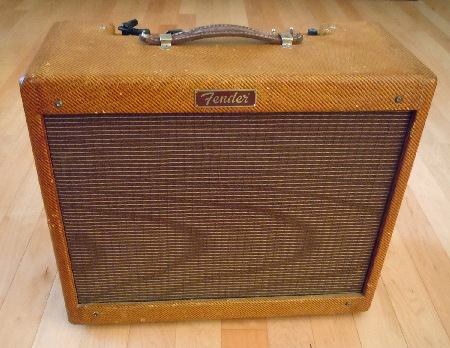 CALL 770 806 1717 if you have any questions or to get a quote